First Corinthians 2019 — Ascension
The Church and the Christian Community
First Corinthians: The Church and the Christian Community an 11-part study. The conflicts of the early Christians in Corinth are in many ways similar to our struggles today as Christians. With divisions, immorality, persecution, and other trials of the faithful, the message of St. Paul to the Corinthians is a much-needed message for our own times. First Corinthians: The Church and the Christian Community explores the key elements that the apostle Paul introduced to a new and growing Church. St. Paul taught the Corinthians about the nature of grace and the Church as the Body of Christ. In addition, he introduced the Corinthian Christians to the most powerful gift of all, the Eucharist.
2019 Edition features updated content, new maps and an improved look. Workbooks have been redesigned with an ultra-readable font, full-color interiors and photographs of all locations, eye-catching layouts that make the information easier to understand. with sacred artwork throughout. Videos in the 2019 edition have been remastered with enhanced sound and picture quality. (©2019)
Online video access is available for 1 year from product purchase date.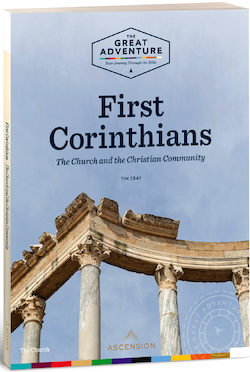 $29.95
Non-returnable
Special order item: Price and availability not guaranteed.