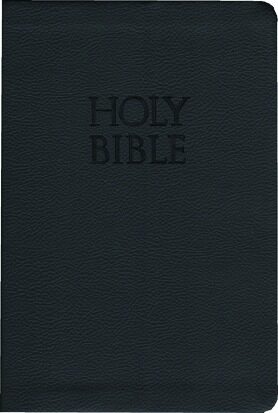 New American Bible Revised Edition
Holy Bible
Leather-like
$35.96 Save 20%
Retail price: $44.95
Publisher: Saint Benedict Press
ISBN: 978-1-935302-57-5
Item Number: TANB-SB2575
Non-returnable.
Currently not stocked. Estimated ship date: about two weeks from ordering
Special order item: Price and availability not guaranteed.
Details
NABRE. Black Imitation Leather. Features words of Christ in red. Includes cross references, a three-year cycle of readings for Sunday and weekday Masses, the list of popes and a section of favorite Catholic prayers. With full-color maps of the Holy Land and Old Master art depicting the life of Christ, on fine white Bible paper. Includes presentation and family record pages. Imprimatur. Black ultrasoft cover with gilded page edges and ribbon marker. 5.75 x 8.5, 1770 pages.

New American Bible, Revised Edition (NABRE). Contains an entirely new translation of the Old Testament, replacing the original 1970 translation and the 1991 translation of Psalms. The NABRE retains the 1986 NAB translation of the New Testament. Traditional format: two columns of medium type with book introductions, textual notes and footnotes.
Weight: 2.266 lbs
Identifiers:
1935302574
9781935302575
SB2575