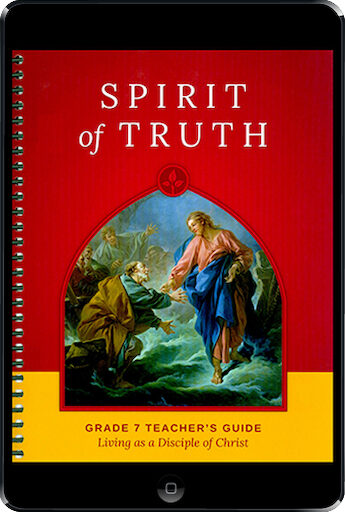 Spirit of Truth, K-8, 1st Edition
Living As a Disciple of Christ, ebook (1 Year Access)
Grade 7 Teacher Manual
Ebook School Edition
Publisher: Sophia Institute for Teachers
UPC: 9781622824397ET
Item Number: SOPH-4397ET
Not a physical item. Takes a day to process.
Details
Ebook (1 Year Access). Comprehensive, but modular design of the lesson plan format ensures that Spirit of Truth can be used successfully by experienced and knowledgeable teachers as well as by teachers with little to no theology background. All readings, handouts, activities and assessments are ready to do. Students will receive a complete understanding of the faith even if the teacher is learning along with them. Teachers are also provided with online support: fresh classroom materials each month, free lesson plans on the Sunday Gospels each week, and lesson plans that help students apply Catholic principles to current events. Teachers also have access to a Sophia Institute curriculum exchange. All sacred art included in the books is also available in the Sophia Institute's digital library. Ebook.
Ebooks (digital app) are sold separately.
Identifiers:
9781622824397ET