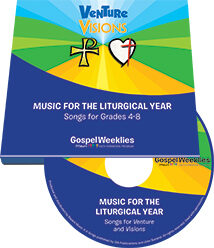 Gospel Weeklies Faith Formation Program, Pre-K-8
Venture/Visions
Grades 4-8 CD Set
Publisher: Pflaum Publishing
UPC: PGW5203
Item Number: PFLA-PGW5203
Non-returnable.
Estimated ship date: July 28, 2023
Details
New music collection for Venture and Visions correlated to the seasons of the Liturgical Year, featuring songs by well-known Catholic composer John Burland, and in collaboration with GIA Publications.
The Venture/Visions CD Set contains 2 CDs, and includes songs for the Liturgical Year, as well as acclamations that can be used for prayer and when transitioning to the Gospel portion of each lesson.
CD 1
Service Music
1. Word of Truth and Life – Marty Haugen
2. Lenten Gospel Acclamation – David Haas
Advent
3.Come, Emmanuel – Tony Alonso
4.Dona Nobis Pacem – Traditional
5.Mary's Song of Praise – John Burland/JoAnn Paradise
Christmas
6. Hark! The Herald Angels Sing
7. He Came Down – Iona/John L. Bell
8. Night of Silence/Silent Night – Daniel Kantor/Franz Gruber
9. Christmas Star – John Burland
Lent
10. Remember You Are Dust – Paul Tate
11. Were You There – Spiritual
12. Take Up Your Cross – David Haas
13. Come Back – John Burland/Gary Pinto
Holy Week/Triduum
14. Song of the Body of Christ – David Haas
15. Jesus, Remember Me – Jaques Berthier and the Taizé Community
16. Lord By Your Cross – John Burland
CD 2
Easter/Pentecost
1. Easter Alleluia – Marty Haugen
2. Alleluia, Sing to Jesus
3. He Lives! – John Burland/JoAnn Paradise
4. Easter Song – John Burland
5. Send Us Your Spirit – David Haas
6. Send Down the Fire – Marty Haugen
7. Come, O Holy Spirit/Veni, Sancte Spiritus – John Burland
Ordinary Time
8. We Will Walk with God – Swaziland
9. Will You Come and Follow Me (The Summons) – John L. Bell
10. Fresh as the Morning – Tony Alonso
11. Blest Are They – David Haas
12. We Are Called – David Haas
13. The Great Commandment – John Burland/JoAnn Paradise
14. Yes, Lord, I Believe/ Sí Señor, yo creo – John Burland
Mary/Saints
15. Immaculate Mary
16. Mary, A Woman of Faith – John Burland
17. How Can We Be Silent? – Michael Mahler
Weight: 1.000 lbs
Case Qty: 30 ($748.50)
Identifiers:
PGW5203