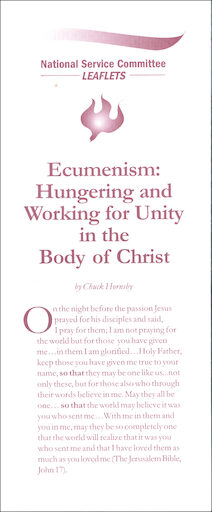 Ecumenism: Hungering and Working for Unity
$.40 Save 20%
Retail price: $.50
Publisher: Chariscenter USA
UPC: EHWU
Item Number: NSCC-EHWU
Details
Ecumenism: Hungering and Working for Unity, National Service Committee Leaflet by Chuck Hornsby.
This leaflet discusses the importance of unity in the Body of Christ, especially ecumenical unity, which is important to Jesus.
On the night before the passion Jesus prayed for his disciples and said, I pray for them; I am not praying for the world but for those you have given me...in them I am glorified...Holy Father, keep those you have given me true to your name, so that they may be one like us..not only these, but for those who through their words believe in me. May they all be on...so that the world may believe it was you who sent me... With me in them and you in me, may they be so completely one that the world will realize that it was you who sent me and that I have loved them as much as you loved me (The Jerusalem Bible, John 17).
Weight: 0.015 lbs
Identifiers:
EHWU