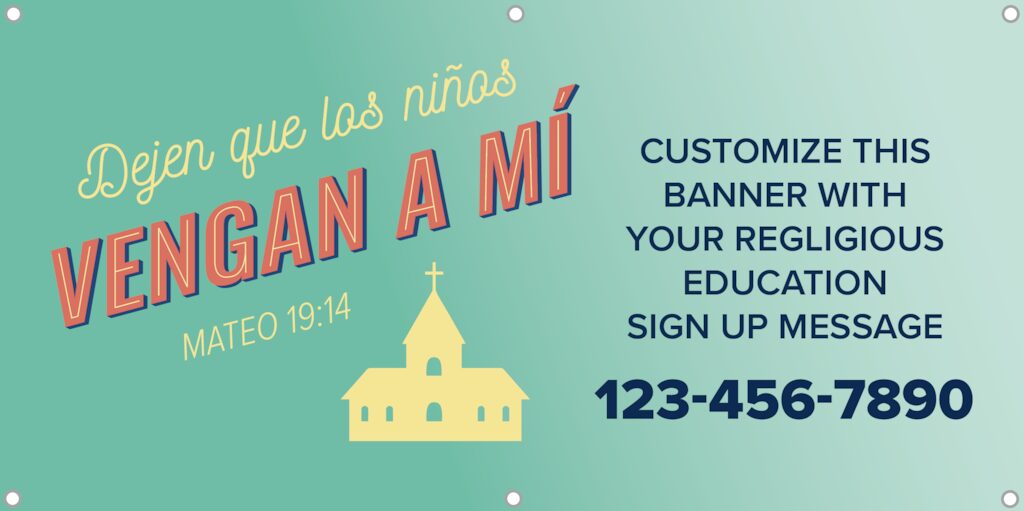 Custom Printed Banner, Spanish
6' x 3'
Spanish
Publisher: Communication Center
Item Number: LASL-2001S
Not available.
Details
Spanish. Boost enrollment in your parish religion program. Remind and encourage parents to register their children for religious education and sacrament preparation. Customize this banner with your text. (Up to 75 characters allowed.) Our designer will create a custom banner for you. The banner is hemmed and fitted with six grommets that allow you to tie it on a fence or to display it in your green space using stakes or poles. Stakes and poles not included. Banners are 6' x 3', made of 13 oz. reinforced vinyl with image in 4-color process on one side. Banners are sturdy enough to use year after year if you don't customize them with dates or contact information that might change. The product has been treated with flame-retardant and may also be used indoors.
These are produced individually and require our design assistance. The price includes shipping cost for this product. For a more affordable option, try the Do-It-Yourself version.
Please note that custom orders are not returnable.
Proofs of custom banners will be sent via email within 2 business days of receiving the order. They ship FedEx Ground for free 2-5 days after proofs are approved.
For your custom text, remember to keep it short, so people can read it as they drive by. If you plan to re-use it next year, don't include dates or contact information that might change from year to year. If you intend to put the banner in front of your church, or if you want to move it from one parish to another in your collaborative, there is no need to put the parish name on the banner. If you want our help, please call 800 348-2227.
Sample texts:
Classes begin in September
Register now
123 456-7890
St. Ann Religious Ed.
and Sacrament Preparation
Sign up: 123 456-7890
St. Joseph Religious Ed.
Register at stjosephreled.com
or 123 456-7890
Sign up online at:
stjohnre.org
or call the parish office
123 456-7890
Weight: 1.366 lbs
Identifiers: