Quick Catholic Lessons with Fr. Mike Vol. 1 Student Workbook, plus The Great Adventure Bible, softcover
Publisher: Ascension
UPC: Q UICK1 BUNDL E
Item Number: ACEN-QUICK1BUNDLE
Out of print.
Not available.
Details
The bundle includes one copy of the student workbook for Quick Catholic Lessons with Fr. Mike, Vol. 1 and one copy of the softcover edition of The Great Adventure Catholic Bible.
The Quick Catholic Lessons with Fr. Mike, Vol. 1 Student Workbook provides the space for teens to engage with Fr. Mike's presentations, helping to reinforce the lessons in the videos. It includes multiple-choice questions, prayers, discussion prompts, activities, take-home exercises, and more. Each lesson provides a breakdown of Fr. Mike's train of thought to help teens follow along with the video along with multiple-choice questions to ensure comprehension and retention of the material. It also includes discussion questions to help them talk about the lessons and apply them to their own lives. Each 104-page workbook features: fifteen lessons, focus on high school students, class time options of 30 minutes, 45 minutes, and 60 minutes.
The Great Adventure Catholic Bible is the Catholic Bible that teaches you how to read it. Now available in a bulk softcover edition for institutions, the Bible will help your parish, school, or small group read and understand the story of salvation. Like the best-selling Alpha Cowhide edition, the softcover Great Adventure Catholic Bible integrates the Bible Timeline Learning System with the Bible text. The articles and color-coded tools make it easy to read, easy to remember, and easy to understand.
This is the Bible that hundreds of thousands of Catholics have come to love. It is also the Bible that Fr. Mike reads on the #1 podcast, The Bible in a Year with Fr. Mike Schmitz. It is a full-color Catholic Bible with beautiful, eye-catching design features:
Each book of the Bible is color-coded with a thumb index, indicating where it belongs on the Bible Timeline.
Twelve Timeline charts provide a visual overview of the Bible, including important characters, key events, geography, major covenants, world rulers, and events in secular history.
Twelve articles give a summary and explanation of each period of salvation history.
Seven articles introduce and explain the major covenants of salvation history, showing God's amazing plan for humanity.
Seventy key-event callouts provide brief descriptions of the milestones in the biblical narrative.
Sixteen newly designed full-color maps provide geographic details.
The words of Jesus are in red.
The translation is the Revised Standard Version, Second Catholic Edition.
Weight: 3.094 lbs
Identifiers:
811661017036
QUICK1BUNDLE
Set Includes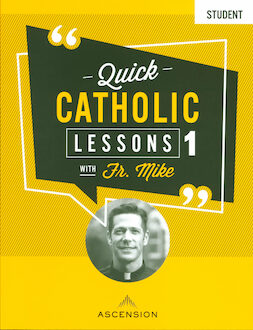 $12.95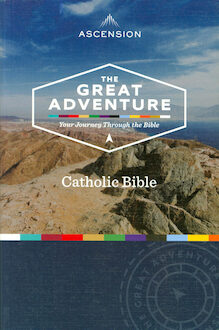 RSV, The Great Adventure Catholic Bible, softcover
$39.95
$33.95 for 10+
$25.97 for 100+
$19.98 for 500+