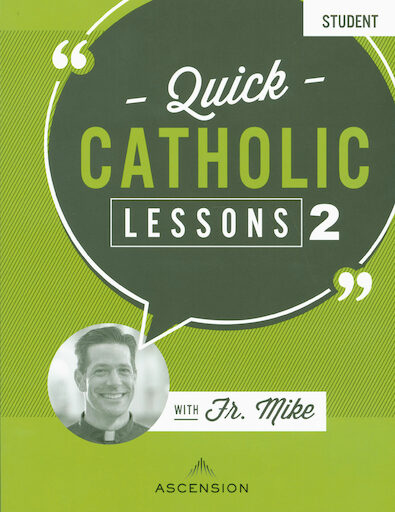 Quick Catholic Lessons with Fr. Mike
Volume 2
Student Workbook
Publisher: Ascension
ISBN: 978-1-950784-42-4
Item Number: ACEN-784424
Details
Provides the space for teens to enter in and engage with Fr. Mike's presentations, helping to reinforce the lessons given in the videos. It includes objective multiple-choice questions, discussion prompts, subjective discussion questions, prayers, activities, take home exercises, and more.
Volume 2 topics:
1. Why God Gave Us Bodies
2. Can I Get a Tattoo?
3. Four Essentials for Catholics
4. What Does God Want Me to Do?
5. Tips for Praying
6. Do Catholics Worship Saints?
7. What You Should Know About Purgatory
8. Will My Pet Be in Heaven?
9. I Ain't Afraid of No Ghosts
10. Confessing the Same Sins Over and Over Again
11. Why is Taking the Lord's Name in Vain Wrong?
12. Why Does God Let Bad Things Happen?
13. The Church and Immigration
14. Catholic Teaching on Contraception Explained
15. Catholics, Alcohol, and Drinking
Weight: 0.662 lbs
Case Qty: 50 ($647.50)
Identifiers:
1950784428
784424
9781950784424
Teaching Guide
$59.95
ACEN-016459
More in This Program