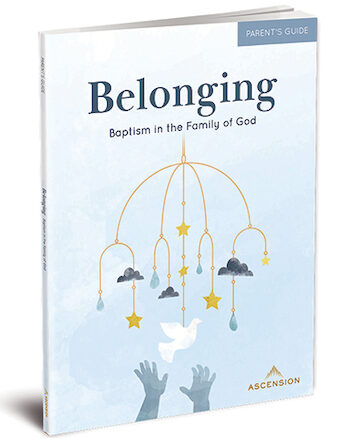 Belonging
Parent Guide
+1 online registration credit
Publisher: Ascension
ISBN: 978-1-945179-83-9
Item Number: ACEN-179839
Pre-order
Details
Designed to provide parents with an incredible encounter with Jesus and with the church. Parent Guide has been designed to bring the experience of the sacrament to life. It presents:
Part I: The Meaning of Baptism
Part II: The Rite of Baptism
Part III: The Role of Parents and Godparents
Part IV: Raising a Young Catholic Family
The Parent Guide can be used along with the Belonging Baptismal prep video series featuring Fr. Mike Schmitz, or it can be used on its own as a guide for any prep class. Free PDF leader guides are available at ascensionpress.com outlining 45-minute, 60-minute, 90-minute and 3-hour session times.

Weight: 0.500 lbs
Identifiers:
179839
194517983X
9781945179839