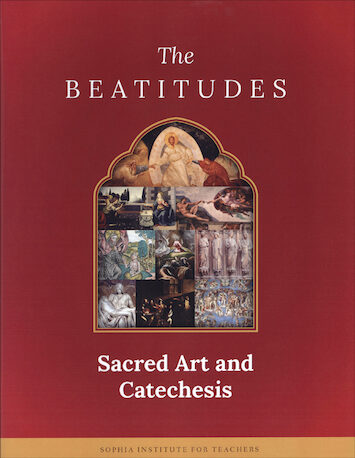 Sophia Institute Teacher Guides
Sacred Art and Catechesis: The Beatitudes
Publisher: Sophia Institute for Teachers
ISBN: 978-1-62282-299-7
Item Number: SOPH-822997
Out of print
Out of stock.
Details
For all grades.
Set of eleven individual laminated full-color cards with classroom discussion questions covering: Our Eternal End; Rules and Freedom; Conscience; Vocation; Passions in the Christian Life; Sin and Virtue; Obedience; Jesus, Our Model; Moral Choices; The Blessed; and Beatitudes and the Saints.
Each card features full-color art on one side and discussion questions on the back. Complete lesson plans using these images are in
The Beatitudes
Teacher Guide. Works in this set include:
The Creation of Adam
by Michelangelo
Creation of Adam
by Hartmann Schede
Annunciation and Visitation
(c. 1230-1255)
The Calling of Saint Matthew
by Caravaggio;
The Agony in the Garden
by Dominikos Theotokopoulous
Pieta
by Michelangelo
The Annunciation
by Leonardo da Vinci
The Transfiguration
by Blessed Fra Angelico
The Last Judgement
by Michelangelo
The Anastasis
Church of the Holy Saviour
Religious Icons Collection.
Weight: 0.638 lbs
Identifiers:
1622822994
822997
9781622822997