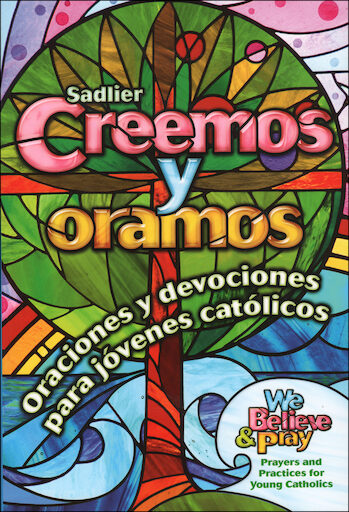 Creemos y oramos
Oraciones y devociones para jóvenas católicas
We Believe and Pray: Prayers and Practices for Young Catholics
Spanish
Publisher: Sadlier Religion
ISBN: 978-0-8215-5697-9
Item Number: SADL-56979RE
Out of print. No longer printed by the publisher.
Not available.
Details
We Believe and Pray: Prayers and Practices for Young Catholics, bilingual.
Prayer book for children in Grades 4 - 6. Traditional Catholic prayers and practices with Spanish and English on facing pages. Also includes prayers in Latin, and other prayers which specifically address young people's concerns, such as "Prayer Before a Game." Features of the bilingual edition:
Devotions to Mary in Latin America
General Devotions in Latin America
Liturgical Year Calendar with Holy Week in Latin America
Prayer to Our Lady of Guadalupe
Patron Saints.
Updated with Roman Missal changes. Paperback, 6 x 9, 128 pages. (©2008)
Weight: 0.644 lbs
Case Qty: 36 ($387.36)
Identifiers:
0821556975
56979
9780821556979
SADL-56979