We Believe Catholic Identity Edition, K-6
Jesus Shares God's Life
Grade 2 Student Book
For Schools
$19.99 Save 25%
Retail price: $26.65
Publisher: Sadlier Religion
ISBN: 978-0-8215-3052-8
Item Number: SADL-30528
View Sample
In stock.
Details
Student texts present the content of the Catholic faith from Scripture and tradition through words, art, activities and discussions which form young people as disciples of Jesus Christ. Each lesson incorporates the Six Tasks of Catechesis: Knowledge, Liturgical formation, Moral formation, Prayer, Community life, and Mission. Promotes Catholic Identity through an age-appropriate, comprehensive presentation of the Catholic faith through a three-step catechetical process, project disciple activities, liturgical lessons, lives of the saints, meaningful family involvement, and access to digital resources to enrich lessons. New dimensions of the Catholic Identity edition include: Catholic Identity retreats; bringing the retreat home; Why We Believe as a Catholic Family; Catholic Identity Q&A; and a Catholic Identity Home Companion. Student books include chapter tests and unit assessments.

Teacher Manuals from the older We Believe with Project Disciple program will work with these revised student books. But teachers who already have the Teacher Manual from the Project Disciple edition will need the new Leader Guide component in order to lead the four retreats. (©2014)
Digital Resources for At-Home Faith Formation
Ebooks and Family Book available.
Weight: 1.730 lbs
Case Qty: 18
Identifiers:
0821530526
30528
9780821530528
Teacher Manual for School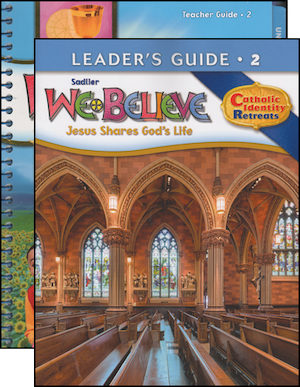 Grade 2 Teacher Manual with Leader Guide
$62.39$83.19
SADL-30627
More in This Program