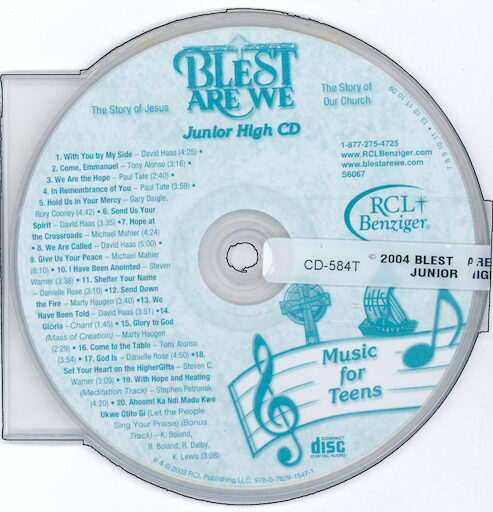 Blest Are We Faith and Word 2008, 1-8
Grades 7-8 Music CD
Parish & School Edition
Publisher: RCL Benziger
ISBN: 978-0-7829-1547-1
Item Number: RCLB-601547
3 in stock. Out of print. No longer printed by the publisher.
Details
For grades 7 and 8, the music is the same for school and parish. Includes unit songs with both vocal and instrumental tracks for each song, plus additional music for singing and meditation.
Includes: With You by My side; Come, Emmanuel; We Are the Hope; In Remembrance of You; Hold Us in Your Mercy; Send Us Your Spirit; Hope at the Crossroads; We Are Called; Give Us Your Peace; I Have Been Anointed; Shelter Your Name; Send Down the Fire; We Have Been Told; Gloria-Chant; Glory to God (Mass of Creation); Come to the Table; God Is; Set Your Heart on the Higher Gifts; With Hope and Healing; and Ahoom! Ka Ndi Madu Kwe Ukwe Otito Gi (Let the People Sing Your Praise).
Weight: 0.075 lbs
Identifiers:
0782915477
601547
9780782915471
RCLB-S6067