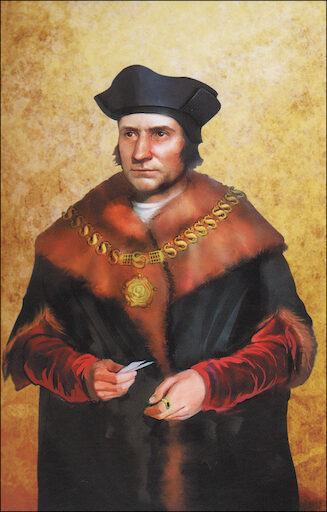 Alive in Christ, 1-8
St. Thomas More
Grade 5 People of Faith Cards
Parish & School Edition
Publisher: Our Sunday Visitor
ISBN: 978-1-61278-086-3
Item Number: OSVP-CU5379
4 in stock. Out of print. No longer printed by the publisher.
Details
Package of 25 St. Thomas More People of Faith cards which connect with a chapter in
Alive in Christ
Grade 5. Illustrated in an art style specifically chosen for fifth graders. Each card contains a prayer and brief biography on the back. A resource for any catechetical program.
Text on the back of the card:
Saint Thomas More
1478-1535
Feast Day -- June 22
Saint Thomas More was a lawyer in England with an important job--Lord Chancellor. He was also an adviser and friend to King Henry VIII. Henry wanted Thomas to say that the king was the head of the Church in England, not the Pope. Thomas couldn't do that. Henry became so angry that he had Thomas beheaded. Thomas loved God so much he was willing to do the right thing even though he would be killed.
Patron of lawyers, politicians, and civil servants. Saint Thomas wrote a novel,
Utopia
which is still read today.
Give me the grace, Good Lord, to gladly to bear my purgatory here. To be joyful in tribulations. To walk the narrow way that leads to life. (Saint Thomas' prayer.)
Weight: 0.138 lbs
Identifiers:
1612780865
9781612780863
CU5379