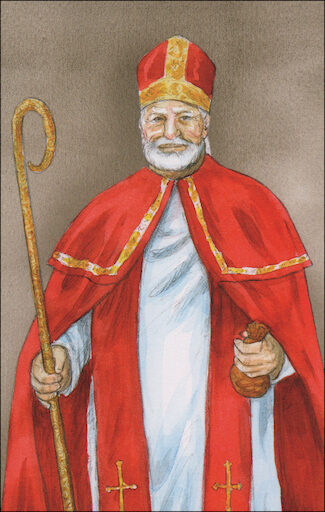 Alive in Christ, 1-8
St. Nicholas
Grade 1 People of Faith Cards
Parish & School Edition
Publisher: Our Sunday Visitor
ISBN: 978-1-61278-057-3
Item Number: OSVP-CU5350
6 in stock. Out of print. No longer printed by the publisher.
Details
Package of 25 St. Nicholas People of Faith cards which connect with a chapter in Alive in Christ Grade 1. Illustrated in an art style specifically chosen for first graders. Each card contains a prayer and brief biography on the back. A resource for any catechetical program.

Text on the back of the card:
Saint Nicholas
270-310
Feast Day --December 6
Saint NIcholas was a bishop in what is now Turkey. His parents died when he was a young man, leaving him money he used to aid the poor. Nicholas liked giving surprise gifts. One night he went to the house of a poor man and threw a bag of coins in an open window so that the man's daughters would have money to marry. When they learned it came from Nicholas, the family wanted to thank him, but Nicholas told them to thank God instead. People still give gifts on his feast day.

Patron of children, sailors, and fishermen. Saint Nicholas was very short and had a broken nose.

Saint Nicholas help us to always give generously to those in need. Amen.
Weight: 0.143 lbs
Identifiers:
1612780571
9781612780573
CU5350