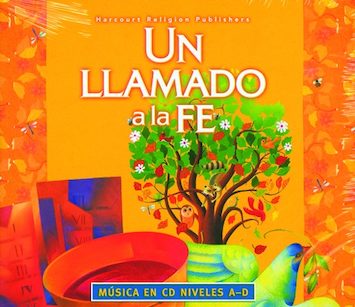 Un Llamado a la Fe, 1-6
Grades 1-4 Music CD
For Parishes
Spanish
Publisher: Our Sunday Visitor
ISBN: 978-0-15-901540-7
Item Number: OSVP-CU0657
In stock.
Details
Overstock Clearance Price!
The Spanish Music CD offers a repertoire of liturgical music to accompany lessons and seasonal celebrations for all four levels of the Spanish program. More music is available in English. (©2004)
Includes: Del cielo ha bajado; Oh ven! Oh ven, Emanuel!; Por siempre cantare alabanzas al Senor; Venid, fieles todos; Peque, peque, Senor; Aleluya hondureno; Envia tu Espiritu; Nada me falta; Oracion de San Francisco; Un mandamiento nuevo; Vamos cantando al Senor; Digo "Si," Senor; Cantemos al Senor; Perdona a tu pueblo; Demos gracias al Senor; Aqui estoy Senor; Cancion del Cuerpo de Cristo; Ofertorio nicaraguense; Pescador de hombres; Los magos que liegaron a Belen; and Alabare.

Weight: 0.125 lbs
Identifiers:
0159015405
9780159015407
CU0657