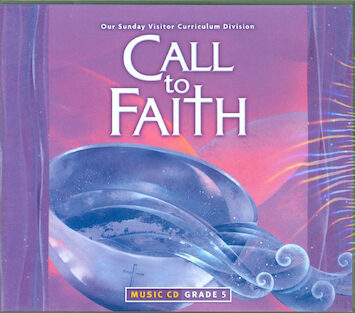 Call to Faith, K-8
Grade 5 Music CD
Set of 2
Publisher: Our Sunday Visitor
ISBN: 978-0-15-901520-9
Item Number: OSVP-CU0638
Not in stock. Estimated ship date: about two weeks from ordering
Details
Music CD offers a repertoire of liturgical music to accompany every chapter and every seasonal celebration. Thirty songs on 2 CDs.
CD1 includes: Psalm 90: Fill Us with Your Love; Psalm 96: Proclaim to All the Nations; All Things Bright and Beautiful; Sing Praise to Our Creator; Rejoice in the Lord Always; Amen Siakudumisa/Amen, We Praise Your Name; Make Ready the Way/Advent Gathering: Make Ready the Way of the Lord/Come, O Lord; Bring Forth the Kingdom; Alleluia, Alleluia, Give Thanks; Send Down the Fire; General Intercessions; Holy is Your Name; Hold Us in Your Mercy: Penitential Litany; Alleluia; Prayer of Peace; Gather Us In; Psalm 23: My Shepherd Is the Lord; Eat This Bread; Here I Am, Lord; I Am the Bread of Life/Yo Soy el Pan de Vida; and Healer of Our Every Ill.
CD2 includes: I Say "Yes," Lord/Digo "Si," Senor; O Come, O Come, Emmanuel; He Came Down; Baptized in Water; Hold Us in Your Mercy; Love One Another; Sing a New Song; Send Down the Fire; and We Are Called (Theme Song and Instrumental).

Weight: 0.175 lbs
Identifiers:
0159015200
9780159015209
CU0638