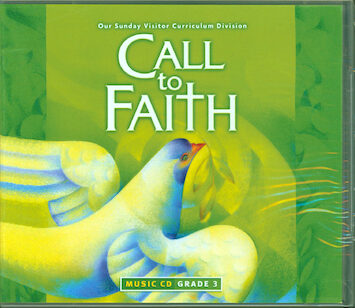 Call to Faith, K-8
Grade 3 Music CD
Set of 2
Publisher: Our Sunday Visitor
ISBN: 978-0-15-901518-6
Item Number: OSVP-CU0636
Out of print
Not available.
Details
Music CD offers a repertoire of liturgical music to accompany every chapter and every seasonal celebration. Thirty songs on 2 CDs.
CD1 includes: Alleluia; We Are the Church; All Grownups, All Children; There Is One Lord; Gloria (Glory to God); Psalm 121: Our Help Comes from the Lord; Two by Two; Sing a New Song; We Are Many Parts; General Intercessions; Veni Sancte Spiritus (Come, Holy Spirit); Psalm 19: Their Message Goes Out; Love One Another; This Little Light of Mine; Psalm 33: Lord, Let Your Mercy; Christ Will Be Your Strength; Amazing Grace; The Servant Song; Walking By Faith; A Means of Your Peace; and We Are Called.
CD2 includes: Holy Is Your Name; We Are Walking in the Light; Go Tell It on the Mountain; Two By Two; Prayer of Peace; O How Good Is Christ the Lord; People of God/Alleluia; Spirit-Friend; We Are Called (Call to Faith Theme Song); and We Are Called (Instrumental).

Weight: 0.175 lbs
Identifiers:
0159015189
9780159015186
CU0636