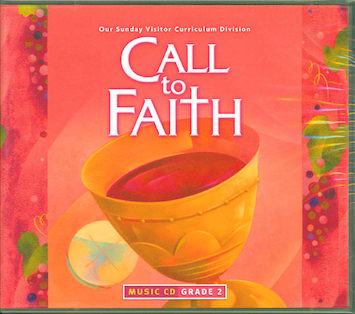 Call to Faith, K-8
Grade 2 Music CD
Set of 2
Publisher: Our Sunday Visitor
ISBN: 978-0-15-901512-4
Item Number: OSVP-CU0630
Out of print
Not available.
Details
Music CD offers a repertoire of liturgical music to accompany every chapter and seasonal celebration. Thirty songs on 2 CDs.
CD1 includes: For the Beauty of the Earth; Psalm 23: My Shepherd Is the Lord; Psalm 121: Guiding Me, Guarding Me; Jesus' Hands Were Kind Hands; Sing, Sing, Praise and Sing; Send Us Your Spirit; Rejoice in the Lord Always; Take, O Take Me As I Am; Kyrie Eleison; Song of the Body of Christ/Cancion del Cuero de Cristo; Standin' in the Need of Prayer; I Danced in the Morning; Psalm 90: Fill Us with Your Love; Two By Two; O Lord, Hear My Prayer; Psalm 100: We Are God's People; Alleluia; Amen Siakudumisa/Amen, We Praise Your Name; We Are the Church; Final Blessing; and Glory and Gratitude and Praise.
CD2 includes: For Your Gracious Blessing; Advent Gathering: Make Ready the Way of the Lord/Come, O Lord; He Came Down; For Health and Strength; Psalm 25: Teach Me Your Ways; O How Good is Christ the Lord; Honduran Alleluia; Spirit-Friend; and We Are Called (Theme Song and Instrumental).
Weight: 0.175 lbs
Identifiers:
015901512X
9780159015124
CU0630