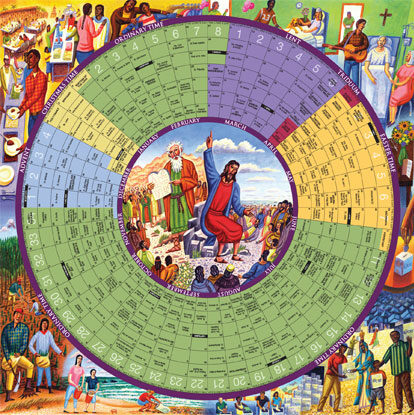 Year of Grace
The Year of Grace 2022, large paper
26 x 26
$9.00
$8.00 for 2+ Save 11%
$7.00 for 25+ Save 22%
Publisher: Liturgy Training Publications
ISBN: 978-1-61671-628-8
Item Number: LTTR-716288
Non-returnable. Old Edition.
Currently not stocked. Estimated ship date: about two weeks from ordering
Details
Poster Size, 26 x 26, paper. A circular liturgical calendar that begins with the first Sunday of Advent 2020 and is color-coded to season and feast. The Year of Grace 2022 follows the Sunday Year C cycle, beginning the First Sunday of Advent 2021 and ending in November 2022. Included in each version of the calendar is information about the liturgical year, a guide to using the calendar, and information about the art and the artist.
In the center, the artist has portrayed Moses presenting the Ten Commandments and Jesus delivering the Sermon on the Mount--two great sets of teachings from which we learn that God expects everyone to perform works of mercy. Through our works of mercy, they taught, we are imitating God, who is always merciful. In the corners of the calendar the artist depicts a variety of acts of mercy. In the upper left, workers feed and clothe refugees at a border aid station. In the upper right, faithful disciples visit and comfort the sick. In the lower right, compassionate people assemble aid boxes to be distributed in a far-away refugee camp, and in the lower left, families help care for the earth—our common home—by planting trees and cleaning up trash from beaches. Our troubled world needs much mercy, and giving it can bring us joy The illustrations on this calendar will invite us to be actively merciful all through the year. (©2021)
Weight: 0.115 lbs
Case Qty: 100 ($700.00)
Identifiers:
1616716282
716288
9781616716288
YG22LP
New Edition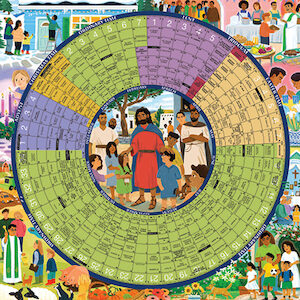 Year of Grace: The Year of Grace 2023, large paper, English: 26 x 26
$10.00
$8.00 for 2+
$7.00 for 25+
LTTR-716691
More in This Program