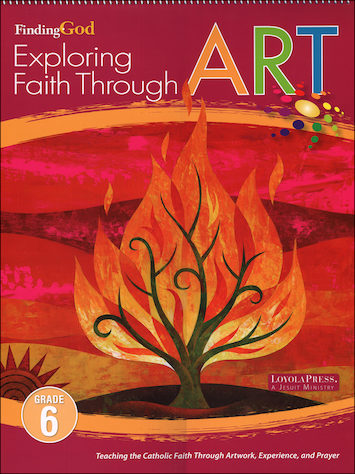 Finding God, K-8
Grade 6 Exploring Faith Through Art
Publisher: Loyola Press
ISBN: 978-0-8294-3192-6
Item Number: LOYO-31926
View Sample
In stock.
Details
An 18" x 24" art print easel for grade 6 with up to twenty-one prints. Ideas for using the prints for experiential activities, prayer and other helps for the teacher are included on the back of the easel. Reproducible worksheets for the art lessons are also included in the Finding God Teacher Manual and Catechist Guide. Designed to be used with the Finding God series but can be used with any curriculum. However, art lessons make reference to page numbers in the Finding God student books.

Art prints for Grade 6:
Illuminated Bible by Taddeo Crivelli
Hora by Baruch Agadati
The Four Evangelists from the Book of Kells
Moses by Michaelangelo
The Book of Ruth by Simeon Solomon
The Jesse Tree by Patrick Reyntiens
Jesus with Soup by Carolina Arentsen
The Shepherd by Norman Neasom
Christ's Charge to Peter by Peter Paul Rubens
Paul Preaching by Raphael
The Magi by Karen Cater
The Prophet Jeremiah by Barthelemy d'Eyck
Isaiah by John Austen
Peter, the Keystone unknown
Two Bilnd Men Cured unknown
Nocturne by Georges Henry Rouault
Therese of Lisieux by Edgar Maxence
The Wedding at Cana unknown
Homage to Csontvary by Tamas Galambos
Saint Patrick by Jan Tillemans, OMI
God Gives by Paula Wiggins
Digital Resources for At-Home Faith Formation
Free chapter-by-chapter at home lesson plans, games and study guides for every grade.
Weight: 7.900 lbs
Case Qty: 1
Identifiers:
0829431926
31926
9780829431926