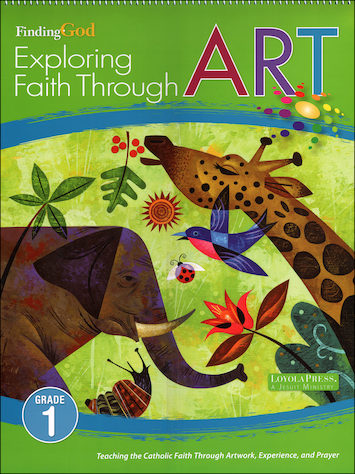 Finding God, K-8
Grade 1 Exploring Faith Through Art
Publisher: Loyola Press
ISBN: 978-0-8294-3187-2
Item Number: LOYO-31872
View Sample
In stock.
Details
An 18" x 24" art print easel for grade 1 with twenty-one prints. Ideas for using the prints for experiential activities, prayer and other helps for the teacher are included on the back of the easel. Reproducible worksheets for the art lessons are also included in the Finding God Teacher Manual and Catechist Guide. Designed to be used with the Finding God series but can be used with any curriculum. However, art lessons make reference to page numbers in the Finding God student books.

Art prints for Grade 1:
Saint Vincent Helping the Plague-Ridden by Antoine Ansiaux
Showing Love by Philomena O'Neill
Triumphal Entry by Dinah Roe Kendall
Four Corners of the World by Pablo Picasso
Easter Seedling by Julie Lonneman
Nativity Scene by Cathy Baxter
Picking Cherries by Paul Seignac
Mother Kissing Child by Dora Holzhandler
The Risen Lord by He Qi
Journey to Bethlehem by Cathy Baxter
Saint Andrew and Saint Peter Responding to the Call of Jesus unknown
The Coming of the Holy Spirit by Soichi Watanabe
7th Avenue Subway by James Wilfrid Kerr
Angel Visiting Mary by Jan Tillemans
Nativity by Julie Lonneman
Christ with Children by Henry Seabright
St. Peter, Storno unknown
On the Cross by Emil Parrag
Paupers Having Dinner by Norbert Goeneutte
The Good Shepherd by Philippe de Chamgaigne
Family in the Park by Colin Bootman
Digital Resources for At-Home Faith Formation
Free chapter-by-chapter at home lesson plans, games and study guides for every grade.
Weight: 8.100 lbs
Case Qty: 1
Identifiers:
082943187X
31872
9780829431872